Fire Curtains are life safety systems that are designed to arrest the spread of fire in a building. The assembly comprises a fire-resistant fiberglass fabric wound over a roller and all encased in a compact head box that is typically installed above the ceiling to be virtually invisible until activated.
When activated by either a general fire alarm or a local detector, the fire curtain descends from its holding position within the head box to its operational position (floor level) and thus forms a physical barrier for fire compartmentalization. Using the Gravity Fail Safe System, our fire curtains descend without the need for power and are fail to safe systems. These fire curtains have enabled large open building designs where otherwise permanent fire rated partitions would be required.
FEATURES
Certified to BS EN 1634 Parts 1 and 3
E180 and E240 minute fire rated models
Compact 'nearly invisible' headbox with multiple fixing methods
Flexible and durable fire rated fiberglass fabrics
Lightweight assembly that greatly lessens structural load
Slim compact guides
Bottom bar, side guides and headbox can be powder coated to blend in to surroundings
Up to 8.5m width x 7m drop on a single roller
Virtually unlimited width without intermediate support using multiple rollers
Guaranteed Gravity Fail Safe (no power needed)
Intelligent controls
COMPLIANCE
BS EN 1634-1:2014 (fire resistance)
BS EN 1634-3:2014 (smoke control test)
Fabrics tested to BS 476 Pt 6 and Pt 7, EN 13501-1
Fire Curtains tested to UL 10D
FIRE RESISTANCE (E)
RADIATION PERFORMANCE (W)
CONSTRUCTION
MULTIPLE ROLLER ASSEMBLY
To achieve a virtually unlimited width without the need for intermediate guide rails, multiple rollers are arranged in an 'over-under' (as illustrated) or side by side arrangement and neatly encased within the headbox.
SINGLE ROLLER ASSEMBLY
Smaller widths can be spanned by a single roller curtain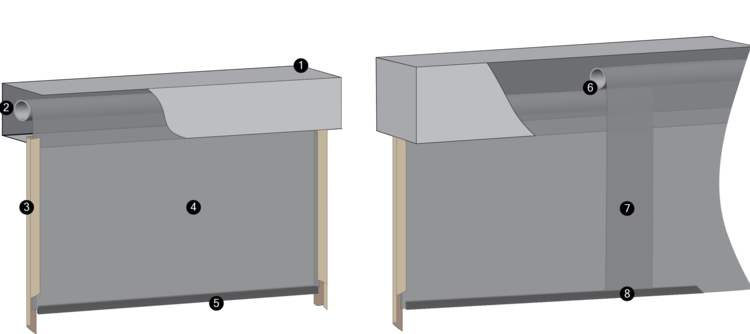 HEADBOX
The steel headbox houses the roller, fabric and motor within the casing creating a small compact package that remains virtually invisible above the ceiling.

ROLLER AND TUBULAR MOTOR
A tubular motor drives a steel roller tube to retract and deploy the fabric from normal position in the headbox to its operational position.

GUIDE RAIL
During deployment, slim steel side guides prevent derailment of the fabric during operation ensuring integrity of the system when faced by positive or negative pressures of a real fire.

FABRIC CURTAIN
Woven fiberglass wire reinforced fabric with individual panels stitched and hemmed using stainless steel thread.

STEEL BOTTOM BAR
The Kent profile bottom bar provides weight and stability to the system ensuring a gravity fail safe deployment.

OVER-UNDER ROLLER ARRANGEMENT
An over-under or side by side arrangement of the barrels (to suit the project requirements) allows multiple rollers to be enclosed in a single compact headbox.

FABRIC OVERLAP
Multiple rollers utilize the use of a 500mm overlap arrangement which removes the need for intermediate side guides and minimizes the potential for roller bounce.

CONJOINED BOTTOM BAR
A conjoined bottom bar runs the entire width of the curtain.
HEADBOX FIXING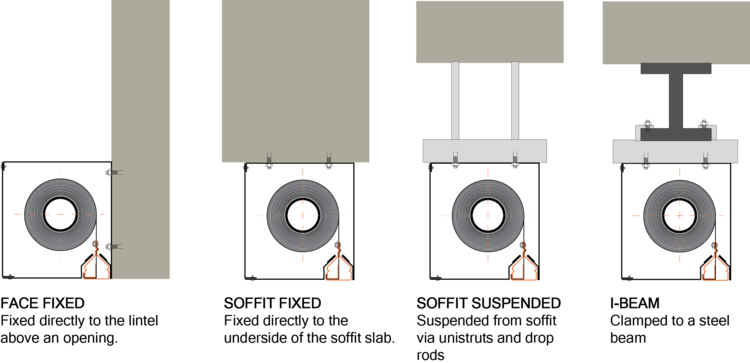 HEADBOX ARRANGEMENTS AND CEILING INTERFACE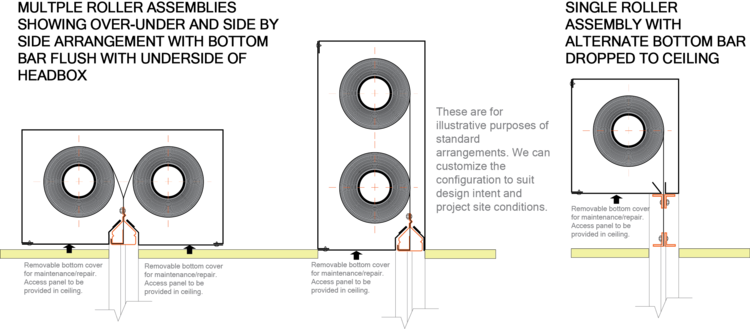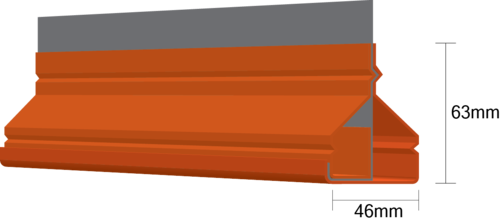 BOTTOM BAR
Our bottom bar profile is designed to provide the necessary weight to draw the curtain down during a gravity safe deployment and to stabilize the curtain during descent. Rolled from galvanized steel, we can powder coat the bottom bar to match the color of the ceiling.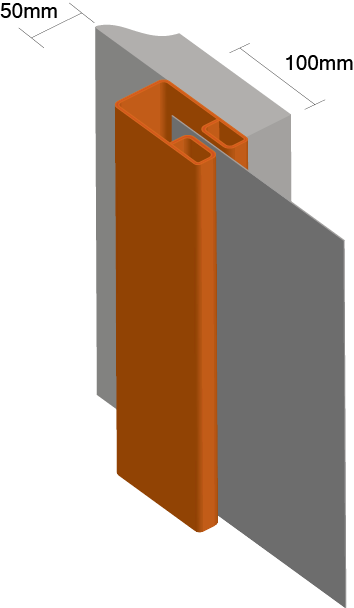 SIDE GUIDE
Our fire curtain steel side guides can be powder coated to blend in with the surround wall. In a real fire, these guides help the curtains withstand positive and negative pressures. The stitched fabric inserted into the guide rail is provided with retainer tabs for added strength.